Four Springs Farm School
A working organic farm makes an ideal classroom for learning.
Four Springs Farm is proud to open its doors to students of all ages to use the farm as a way to understand nature better, to learn what is happening on small family farms today, to get hands-on experience growing veggies & fruit and raising animals, to get into the kitchen to bake bread, put up food and feed others.
Four Springs Farm offers several types of experiences: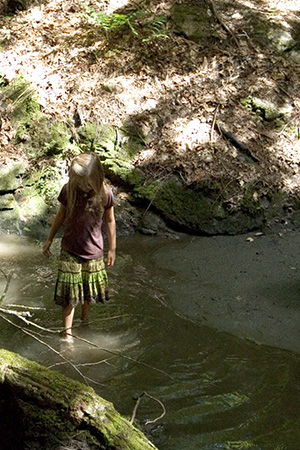 Photo by Will Cleland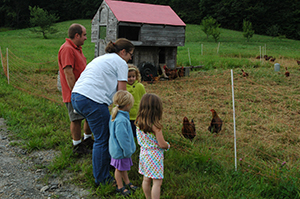 Photo by Jinny Cleland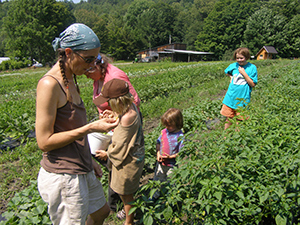 Photo by Will Cleland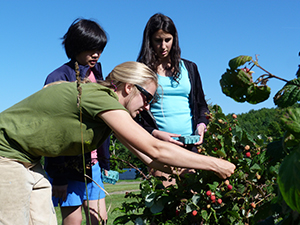 Photo by Ed Pursell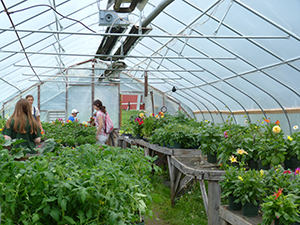 Photo by Ed Pursell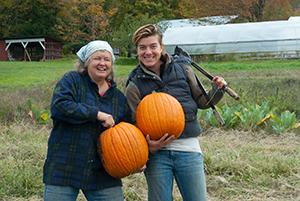 Photo by Orah Moore
Passive learning •
Observe the daily activity on the farm and the beauty of the farm ecosystem while camping for the night or weekend
Tag-along-on-chores • Tag along with the farmers during morning animal and greenhouse chores
Structured activities • Arrange for a custom designed program for a family or group
Workshops & programs • Use the farm for your day, weekend or week-long classes on all subjects
Immersion Experience • Attend a two week scheduled farming experience for small groups of teenagers or adults
Farm volunteers • Come for a two-week learning vacation working and eating along with the farm crew
Internships • Spend the entire growing season on the farm as the primary worker while learning the practical skills of day to day farm living
Staff
Four Springs Farm is fortunate to have a great staff of Farmer/Educators who are excited to be a part of the Farm School
Jinny Hardy Cleland
Founder, farmer and Program Coordinator for Four Springs Farm, Campground & Learning Center's Farm School
Jinny has been farming for over thirty years and is pleased to have reached the place where she can share her many years of discovery with others. Her formal education was in design from Cornell University. She then worked for several years as a batik artist. She later raised her five children on the farm while growing greenhouse plants in spring, vegetables in summer and producing cookies out of the farm bakery in the winter. Her Buttermilk Bakery business was started in 1987 to use the butter she made on the farm from their Jersey milk. Jinny was a pioneer in the CSA (Community Supported Agriculture) movement, starting a program on the farm in 1991 which continued through 2012. At the same time, the farm was an early member of Deep Root, an organic truck farmers marketing cooperative. She opened the campground on this farm in 2004 and since then has shared the farm with others for many kinds of events and programs.
Working with young people each season teaching interns and volunteers who wish to learn about small farm organic agriculture has been important to Jinny. As a seasoned farmer she is invited to present at workshops, frequently drawing on her experiences with agritourism. She has served on the Board of the Norwich Farmers Market having vended there since 1981, is on the Board of Vermont Farms Association the statewide agritourism organization and sits on the Vermont Agriculture and Culinary Tourism Council.
Jinny continues to coordinate the educational opportunities on the farm. She works with teachers and leaders as well as students. She gives tours, works either one-on-one with trainees or guides groups of teens working on large projects and answers questions of families who tag-along-on chicken chores in the morning.
Kate Reimanis
Program Director for Four Springs Farm, Campground & Learning Center's Farm School
Four Springs Farm is fortunate to have Kate Reimanis in the position of Program Director for its Campground and Learning Center.
Kate is the mother of two children, who along with her husband Erik, are running a farm in South Strafford, Vermont.
Kate has a Master's degree from Antioch College in Science and Environmental Education, and received her K-8 Teaching Certification. After working actively with young people of all ages in outdoor settings, she gained valuable experience working on three organic farms before spending seven years at The Farm School in Athol, Massachusetts, in several capacities – as program director, dairy manager, and head of the garden and maple operation. The Farm School brings middle school youth from Boston and other urban areas to the farm for intensive five-day experiences. There, Kate gained extensive experience as a leader and organizer while surrounded by a highly skilled group of educators.
Kate brings an energetic and open approach to farm activities, that incorporates simple aspects of nature into the larger picture of food production and the environment. Her ability to excite young people's interest in the natural world around them is enhanced by her spontaneity – which makes full use of each learning opportunity in a way that ideally suits the individuals or group. She loves exploring with the littlest folks coming to the farm.
As Program Director at Four Springs Farm, Kate works with farmers and naturalists, in conjunction with guests who request group programs, in order to creatively use the farm as an active learning experience. She is part of the team that coordinates the events and activities Four Springs Farm offers to the public.
Katura Huckabay
Assistant Field Instructor, Chef and Cooking Teacher for Four Springs Farm, Campground & Learning Center's Farm School
Katura grew up on an organic farm and naturally learned the many skills needed to work with animals, in the fields and in the kitchen. After four years of valuable experience in the Navy she completed training at the New England Culinary School and began working as a Chef and Baker. Her love for food and the skills related to transforming the plant into a plated dinner have drawn her back to the farm to share her expertise with others. She is an enthusiastic teacher with much to share.
Katura lives in Montpelier with her young daughter and their German shepherd, Ritter.
We are fortunate to have Katura connected to the farm with her enthusiasm and great depth of knowledge. She is involved with WildBerry Catering and is the key person leading kitchen activities for the Four Spring Farm School.