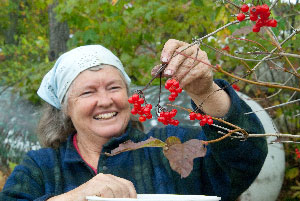 Photo by Orah Moore
Hello,
Welcome to Four Springs Farm. Visitors are always welcome to this busy family home for a day visit or an overnight farm stay. Like most Vermont organic farms, many different things are happening in order to use the land well and support a small community. A wide range of fruits, vegetables and herbs are being grown all around the farm both in the gardens and on many smaller spaces around the acreage. Greenhouse plants, a home bakery, catering activities and poultry production round out the year's cycle and complete the list of things sold. Guests are invited to use the Four Springs Farm campground to vacation on the farm and get away for a quiet New England retreat, to gather for a family event in beautiful spacious surroundings, or to host a fun-filled celebration in a natural setting.
Volunteers learn and work along with me to make this Royalton, Vermont farm a productive and fun place to visit. I love to talk with folks about that opportunity.
After many years working long hours farming and hosting all of you I have worked out time to do some other things. To make this possible I'm looking for a couple or person to become a farm partner and part owner of the farm and campground. If that seems like a possibility to you I'd love to hear from you to talk about it.
I hope you enjoy learning about the farm and find all the answers to your questions. Please contact me at fourspringsfarm@gmail.com or (802) 763-7296 to purchase any farm products; reserve a cabin, a tentsite or the whole farm for your camping vacation or event; to schedule your meeting or party; or to be considered for a farm position. If you have unanswered questions I'll be happy to answer them personally.
Jinny Hardy Cleland
CURRENT HAPPENINGS ON THE FARM!
Thanks to all the friends, family, workers and farm guests who make each year different and exciting!
The CAMPGROUND opens the beginning of May and reservations for the year begin in February. Jinny, Jack and Zoe
will be selling farm products at the Norwich Farmers' Market again this year and will be attending on alternate Saturdays beginning in May.
If you would like to be added to the email list to receive notice of the dates they will be there, please let Jinny know.
802 763 7296
fourspringsfarm@gmail.com