Campground & Learning Center
Vermont Farm Vacation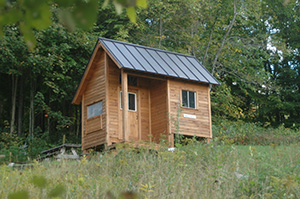 Photo by Will Cleland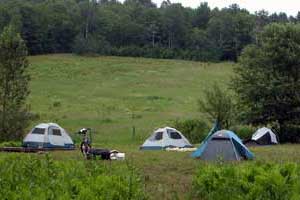 Photo by Will Cleland
Guests at Four Springs Farm,
Campground
and Learning Center this season will have the opportunity to gain a better idea of what is happening on small family farms today. While relaxing in the peaceful environment of this spacious organic farm, people can observe the work going on in various places. They can also take advantage of several ways to be more actively involved in the working farm:
Chores · Each morning as your farmer hosts do their chores with the animals and in the greenhouses, guests are welcome to tag along and see what is involved with these activities.
Pick Your Own · In the late afternoon a farmer will be available to show guests through the vegetable gardens and assist them with picking vegetables that are available for purchase.
Exploration · The seventy acre farm has beautiful fields, streams and woods to explore with trails and foot bridges linking one section with another.
Day Trips · Come visit us just for the day! Four Spring Farm is a beautiful place to explore and relax. There are nooks and crannies as well as wide vistas. We invite you to bird watch, paint, picnic, wade in the streams, take pictures, fly kites, watch the sun set, look at stars. Please call ahead so we can expect you.
The type of farm education that is available at Four Springs Farm is a unique experience enabling guests to be welcomed into the midst of a working farm while their farmer hosts go about their everyday tasks. Couple getaways, family and group gatherings on this diversified organic farm are a wonderful vacation idea. We welcome all types of family groups, including home school families and family celebrations. Reserve part or the entire campground for your event.
Enjoy your visit to the Four Springs Farm, Campground and Learning Center!
Cabin and Tent Camping, Picnic Pavilion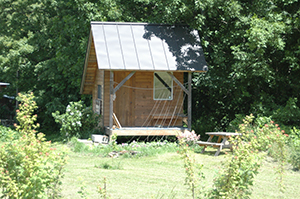 Photo by Jinny Cleland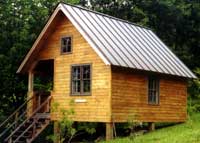 Photo by Allison Levin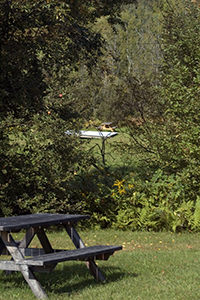 Photo by Will Cleland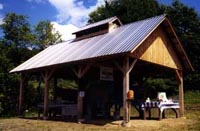 Photo by Allison Levin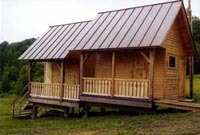 Photo by Allison Levin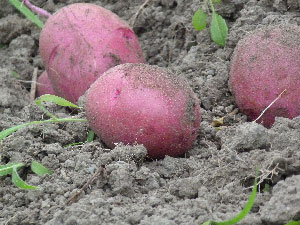 Photo by Ed Pursell
Four Springs Farm's beauty and rural setting makes it a wonderful place to get away from everyday concerns and hectic schedules. Intended primarily for low-impact campers who want to experience a taste of life on a farm, or who just want a quiet retreat, the campground consists of a few cabins and a number of secluded tentsites set into the edges and corners of fields and orchards. The seventy acres of fields, fence rows, streams and woodlands sit high on a southwest-facing ridge and look out over hills and valleys to the Green Mountains in the distance.
Many features make Four Springs Farm a wonderful vacation place:
several springs, streams and ravines, large open fields and trails for hiking through wooded acres
quiet spots with spectacular views of the Green Mountains, fantastic sunsets, and cloud and star panoramas
birds, wild berries, woodland and field animals
vegetable gardens, spring greenhouses, orchards, and poultry
Facilities • All of the sites at the campground are nicely isolated from each other and are reached by foot no more than a few hundred yards from parking.
Mountain View Cabin · Mountain View Cabin is a simple wooden building with four bunks. It has a high porch and a westward view across the valley. There is no electricity or running water in the cabin, but a comfortable wash house is nearby. Outside the cabin is a cooking area with a fireplace and picnic table.
up to five guests: $79 per night
Water Music Cabin
· Water Music is a cozy couples spot or comfortable quiet place for one person. It has a front porch and small garden as well as picnic table and fire pit.
one or two guests: $55 per night
Apple Hill Cabin ·New in 2016 is our Apple Hill Cabin sitting high above the farm with a view of the valley. It has several levels to fit into the hillside with a double bed on one level and a bench in the sitting room.
up to three guests: $57 per night
Tentsites
· Walk-in "essentially bug-free" tentsites are tucked away in private corners. Each has a fire pit and picnic table.
up to five guests: $28 per night
Picnic Pavilion · Those who have a large group or would like to host an event may rent our picnic pavilion. The pavilion has hot and cold running water, a barbecue pit, picnic tables and great views.
starts at $50 per day
Wash House · There is a central wash house with toilets and showers a short walk from any of the sites. Nearby is a water source for camp cooking, a firewood shed ($7 an armload) and a trash & recycling area.
Reservations • The campground is open from April through October. Reservations are required. Please call (802) 763-7296 for information and availability (please leave a message—if we are outside we will call back promptly) or email fourspringsfarm@gmail.com. Confirmation will be sent upon receipt of a 25% deposit. Payment for all reservations are made in advance.
Cancellations • If a cancellation is made in a timely fashion we will be able to refund all or a portion of the deposit, but we reserve the right to keep all deposits.
Policies • Your help in following these policies will make visits enjoyable for everyone.
Clean-up · Your help is needed to maintain the beauty of the campground, so we expect our guests to clean up all trash around the sites they use. Guests also contribute to keeping the wash house and parking area tidy. Trash can be left at the wash house receptacles.
Accompanied · Children must be accompanied by adults at all times.
Parties · Since this is a working farm and because voices carry easily here, we ask that campers are quiet once it gets dark. Responsible consumption of alcohol is permitted.
Fires · Fires are permitted only in the provided fireplaces. We provide firewood for a small fee. Please do not gather or cut any on your own. Open flames, including cooking and smoking, are not permitted inside the cabin.
Pets · Since this is a working farm, pets are not permitted
Recreational Vehicles · We cannot accomodate RVs or other camping vehicles.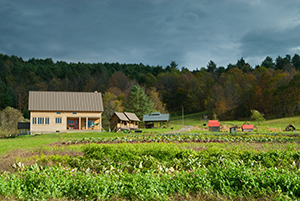 Photo by Orah Moore
About the Farm •
At Four Springs Farm, guests will have the special experience of rustic camping in a lovely natural environment, while being guests on a working farm. Families can get a glimpse of life on a small family farm and see how food is grown. Although the busy farm work will take much of their time, the farmer hosts will be happy to show campers around the working parts of the farm.
Jinny Cleland has been farming for nearly forty years. Along with her family and the young apprentices on the farm, she is growing vegetables, fruit and herbs for local people in the community. She grows flowers in her greenhouses, operates a small bakery out of her farm kitchen, raises chickens and turkeys and maintains a flock of laying hens for eggs.
Vegetables, fruit, chickens, herbs and flowers, eggs, jam and baked goods from Four Springs Farm are available for guests to purchase. Four Springs Farm Product List PDF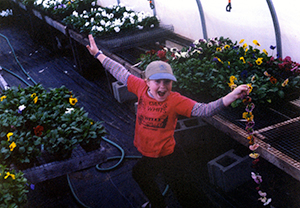 Photo by Allison Levin
Location •
This unique farm and campground is
easy to get to
. It is halfway between White River Junction and Montpelier, in the middle of Vermont. The farm is only four miles from Interstate 89.
Visitors are welcome year 'round. Please call ahead: (802) 763-7296, email fourspringsfarm@gmail.com, or write us at 776 Gee Hill Road, Royalton, VT 05068.
Links
DigInVT—An online resource sponsored by the Vermont Agriculture and Culinary Council