Directions to Four Springs Farm, Campground and Learning Center
Four Springs Farm
776 Gee Hill Road
Royalton, Vermont 05068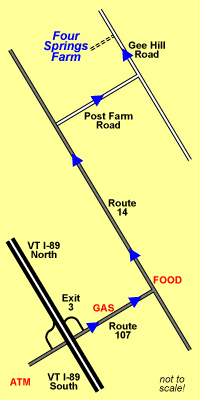 Situated where it is quiet and removed from hubbub, the farm is never-the-less easily accessible and centrally located:
Take Vermont I-89 to Exit 3 (Bethel and Royalton).
Turn left on Route 107 (from either ramp) and go east to Route 14 (Route 107 ends here at a T-intersection).
Turn left onto Route 14, and go north about three miles to Post Farm Road on the right.
Turn right onto Post Farm Road and take it up to the top (about one mile) to Gee Hill Road (Post Farm Road ends here at a T-intersection).
Turn left on Gee Hill Road and go one-quarter mile. You'll see the Four Springs Farm sign on the left.
Take the sharp left and go down the driveway for campground parking, or park at the top for the Valley Quest.
Bicycling Route to the Farm
Take Route 14 to Route 110 in South Royalton. Head north up Route 110 and take the first left onto Mill Road. Follow it, crossing the river above the dam, to Rix Road on the left. At the first fork (where Happy Hollow Road joins) stay right. At the next fork go left. Continue to Gee Hill Road on the left (three miles from Mill Road). Go one mile up and over to the farm. The Farm is #776 on the right.
Please call ahead, (802) 763-7296, or email fourspringsfarm@gmail.com if you plan to visit.