Farming Opportunities
Partner Search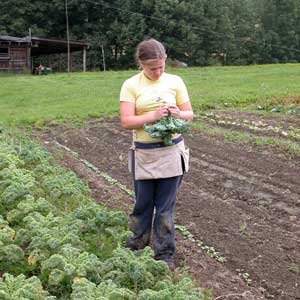 Photo by Will Cleland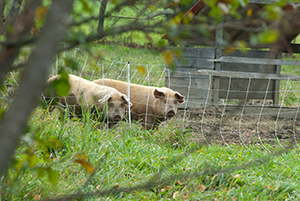 Photo by Orah Moore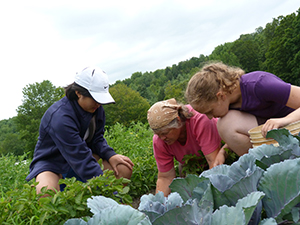 Photo by Ed Pursell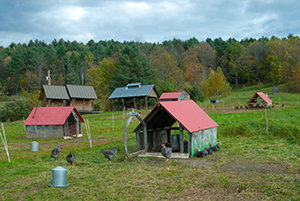 Photo by Orah Moore
Four Springs Farm has an exciting farming opportunity available for an experienced young person or couple.
This beautiful farm is spacious enough to have more than one farmer living and working it. There is an opportunity for an experienced young person or couple who would like to explore the possibility of a long term joint venture.
The farm is looking for folks with two main interests:
establishing a livestock operation

The farm currently raises poultry on a very small portion of the available pasture. There is a 15-acre field that can be cut for hay or fenced for grazing. There is an 8-acre pasture that has old fencing with easy access to water. All of this land has been mowed regularly. While pasture quality needs improvement on most of the farm there is nearly 10 acres of land in smaller areas that have been grazed in the past few years and are in nice condition. Four Springs Farm is certified organic.

A barn built originally for horses has several spaces that could be adapted to house a limited number of livestock and provide for some hay and grain storage. There are suitable locations are construction of other livestock housing.



being involved in vegetable and fruit production

Four Springs Farm is well established in the community, operated a CSA program for 22 years and has sold at the Norwich Farmers Market and to local stores for over 30 years. More and more of the farm production is being used right here on the farm for the use of guests and campers.
Jinny is currently running all parts of the farm operation — greenhouses, bakery, and the Campground and Learning Center as well as the projects mentioned above. Management of everything would be shared or divided according to the experience and interest of everyone. Compatible new enterprises or expansion of present ones are welcome ideas to be explored in a partnership.
Available land for farming is difficult to find in Vermont and has become more expensive than many of us can afford. Joining with an established farmer would help make land costs reasonable for both of us.
It is also challenging to establish a place in area markets as experienced producers have been supplying the community for many years. Four Springs Farm is an established presence in several of the best local outlets and these marketing connections would be available to partners as they become part of the farm production team.
Please contact Jinny at the farm to share your thoughts, get to know each other and consider a partnership.
Apprenticeship
Farming is a craft. It is a creative balance between the art of intuitive decision making, the science of learned techniques and observation, and the discipline of good management practices. One of the best ways to learn any craft is through apprenticeship.
At Four Springs Farm (FSF) we offer the invaluable experience of learning while living and working on the farm. This learning principally happens by experience and through questions asked and answered during the course of the season. Overall management, record keeping, and the necessary organizational skills required to run a business are a strength of this farm and are taught along with hands-on experience in the field. The smallness of the operation provides a unique opportunity for apprentices to work side-by-side with the owner/mentor, as well as, take on a share of the farm responsibilities. About half of an apprentice's time is spent growing, harvesting, and marketing vegetables, herbs and flowers. The balance includes greenhouse work, poultry raising, caring for young fruit, hosting campground guests, maintenance and improvement projects, and independent time to do individual projects on or off the farm.
FSF has a position open for the season beginning in the spring and extending through the busy fall harvest period. A full season of training on the farm is a valuable educational experience. There would be a charge for this instruction if the equivalent were provided in the university setting. We, however, are able to offer apprenticeship training at no cost. Housing, food, and a small amount of spending money are included. Work is generally five and one-half days a week, with extra hours at peak times. Housing is in one of our small cabins, and food is principally from the farm, with meals eaten in the farmhouse. Life in the farm community is a total integration of activities, often without a clear definition of what is 'work time' and 'time off'. We endeavor to share the intensity, the freedom, and the joy of this life-style with everyone who is here, and provide a realistic perspective on small-scale farming today.
Volunteers
In addition to the full season position, volunteers can arrange two week stays during the season (April through October) and work along with the crew. These workers are usually housed in one of the small cabins. The campground wash house facilities are available to them. They are asked to work only a little more than half of the time leaving plenty of additional opportunity for relaxation and exploration. Meals are prepared and eaten together in the farm house.
It is a special privilege to be able to have volunteers join us on the farm.
Applications
Internships on the farm are generally arranged during the first three months of the year.
Volunteers are welcome to contact the farm at any time. Please send information about yourself with the usual application information to:
Jinny Cleland, Four Springs Farm, 776 Gee Hill Road, Royalton, Vermont 05068 or e-mail the information in whatever form you wish to fourspringsfarm@gmail.com