Buttermilk Bakery
Since 1987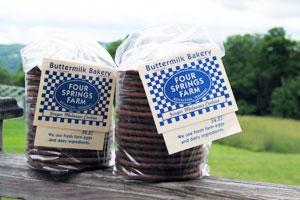 Photo by Katura Huckabay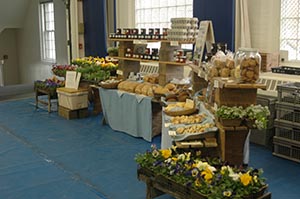 Photo by NA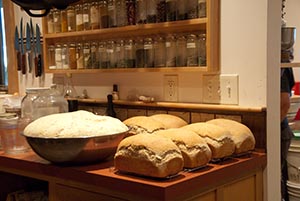 Photo by NA
Buttermilk Bakery •
There's nothing better than stepping into a warm kitchen and being greeted by that wonderful smell of hot cinnamon rolls or freshly baked cookies.
Jinny began this small home bakery in 1987 to make full use of the milk products, eggs, and some veggies from the farm. It has evolved over the years to fit into the changing activities of the farm. Since she now does all of the baking herself, it has taken on a seasonal schedule. As the outside work with crops slows in the fall she steps up the pace of the bakery. Over the winter she bakes lots of cookies to sell to local stores. When warm weather returns, Jinny is pulled outside again and you'll find fewer Four Springs Farm baked goods. But check out the Saturday Farmers Market in Norwich, VT and don't hesitate to contact her for special orders.
Jinny has always baked bread for the family but is now also baking bread to sell to farm customers. These include five types of sandwich breads and four kinds of small round specialty loaves - African Honey Bread, Cheese Bread, Apricot Walnut Bread and Pumpernickel Bread. Her popular Sweet Rolls use dried fruits and fresh fruit in season and plenty of nuts and spices.
The ingredients used include the best quality products that Jinny can find, many of them organic and local. She sometimes still makes butter and uses it and the special farm buttermilk in the baking, as well as sour milk and whole milk. The farm raises a flock of hens in order to have the freshest eggs possible for the baking. The bakery uses Four Springs Farm organic fruit and vegetables.
Four Springs Farm products can be purchased at the Co-op Food Stores in Hanover, NH and White River Jct., VT, at the South Royalton Market, and at the Norwich Farmers' Market.
Four Springs Farm Product List PDF
Special Orders
Talk with Jinny about placing special orders: (802) 763-7296, email fourspringsfarm@gmail.com