Pastured Poultry

Photo by Orah Moore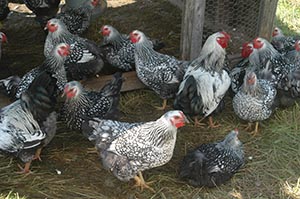 Photo by NA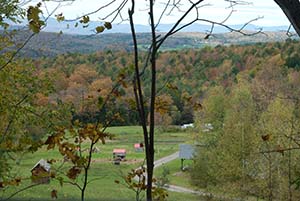 Photo by NA
This diversified family farm would feel empty without the birds that dot the pastures as soon as the grass is green in the spring. They are beautiful residents. Four Springs Farm raises excellent quality poultry for eggs and meat.
• Brown eggs are raised on the farm. Three beautiful breeds comprise the Four Springs Farm laying flock at any time – Rhode Island Reds, Black Australorps and several varieties of Wyandottes. Their eggs can be purchased from the farm and often at the Norwich Farmers Market.
• Pullets are raised each year as replacements for the laying flock and are also available for sale in late summer shortly before they are ready to lay. Ordering ahead in January is advised.
• Roasting Chickens (Four Springs Kings) are an excellent breed of meat chickens. The farm sells whole roasters. They are available fresh in October and frozen the rest of the year.
• Broad Breasted Bronze Turkeys, an old breed which is the best tasting turkey available, are raised for fall purchase. Consider these birds for all year long use as well as the Thanksgiving table.
Four Springs Farm meat chickens and turkeys are raised on fresh pasture with plenty of beautiful clean water and organic grain.
The pullets and meat products are certified organic through Vermont Organic Farmers.
Links