About Four Springs Farm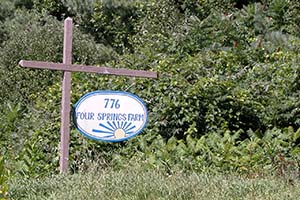 Photo by Will Cleland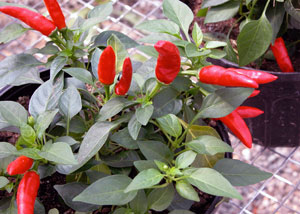 Photo by Will Cleland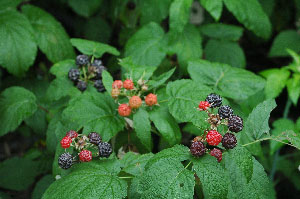 Photo by Will Cleland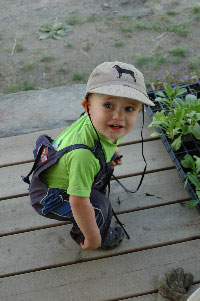 Photo by Jinny Cleland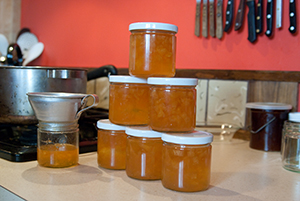 Photo by Orah Moore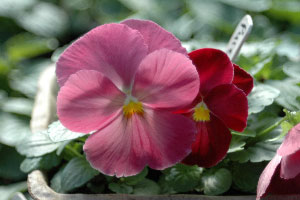 Photo by Will Cleland
About the Farm •
In July of 2001 Jinny bought a wonderful seventy-acre property on a central Vermont hillside to continue and expand the farming she began nearly forty years ago. As you approach along the ridge you get a spectacular view of the Green Mountains stretching along the horizon to the west. Spacious open areas, beautiful fields with good fertile soils, breathtaking views, several springs, a stream, and peaceful woods create an inviting atmosphere. Visitors and the dedicated farmers living and working on the farm enjoy the freshness of the air and the amazing light and beauty of this Vermont hillside. Opportunities abound to make full use of the land and share it with others for recreational and educational purposes.
The name Four Springs Farm was chosen for the site because of the year 'round springs on the property. Jinny began to build on the valuable work begun at Tanyard Farm — where she had served the Vermont and New Hampshire community for two decades — and reach even farther.
What Happens on the Farm • A lot of parts make up the whole on this small Vermont farm:
Greenhouses • The central emphasis of the farm is the raising of plants. Pansies are the first crop of the season and do a great job to break the mud season blahs. They are sold through several local food co-ops beginning in April and also at the Norwich Farmers' Market in May. The farm also grows flowers, vegetables and herb plants to sell to neighbors and friends as well as plant on the farm.
Vegetables • The farm gardens include a wide variety of many vegetables .Volunteers who come to work for a couple of weeks on the farm help to plant the rows of shallots and the sturdy tomato starts or pull the inevitable weeds from around the delicate carrots or harvest red sweet onions for our Balsamic Onions.
Herbs • Both perennial and annual herbs are grown at Four Springs Farm. Mid-summer there is a wide selection available fresh from the garden. Most are also dried on the farm for sale all year.
Fruit • Jinny has a special love of berries. The farm is now harvesting cultivated red and black raspberries and a variety of wild fruits such as blackberries and High Bush cranberries as well as other small fruit planted in earlier years. These include plums, pears, apples, currants, cherries, and rhubarb. More young fruit will be yielding soon. All fruit at Four Springs Farm not eaten fresh is made into an extensive line of jams and jellies.
Poultry • Four Springs Farm sells top quality pasture-raised chicken and turkey to local customers. A laying flock is maintained for eggs as well. Started pullets are available for sale in late summer.
Buttermilk Bakery • The farm operates a small bakery year 'round in the farm kitchen but when outside work slows down in winter, there are lots more cookies to sell in the nearby stores. A wider variety of baking goes with Jinny to the Norwich Farmers' Market in Norwich alternate Saturdays during the warm months of the year. Special orders are welcome.
WildBerry Catering • More and more of the wide variety of excellent products raised on the farm are being used right on the farm. The new catering service is enabling the farm to produce value-added products and prepare meals for farm guests. Over the years Jinny has developed more products – Balsamic Onions and several types of granolas are two of them.
Farm Vacations • Guests are invited to come to the farm for a farm vacation and camp in the beautiful secluded tent sites or one of the rustic cabins which overlook the farm and valley. The campground is open seasonally and provides a unique opportunity to learn about life on a small family farm today. Visitors are welcome to wander the many farm trails or come for a picnic anytime.
Events • You are invited to schedule small meetings, celebrations, parties and family gatherings at Four Springs Farm using the outdoor picnic pavilion or arrange for a large tent set-up. The camping facilities are all available for weekend or overnight events.
Future Plans • Work is never done on a farm. Young orchard trees are now planted which will require good care for several years before producing. Recently planted crops including a quince tree, northern kiwis, new plum trees, elderberries, gooseberries, honeyberries and butternut trees need protecting and extra care as they grow.
A new guest cabin, Hillside Cabin, is scheduled to be built soon and will provide an additional cabin for a group of campers to add to the list of other cabins -- Mountain View for a family and Water Music and Apple Hill for couples or singles.
Links